Arrivals - Timid Magazine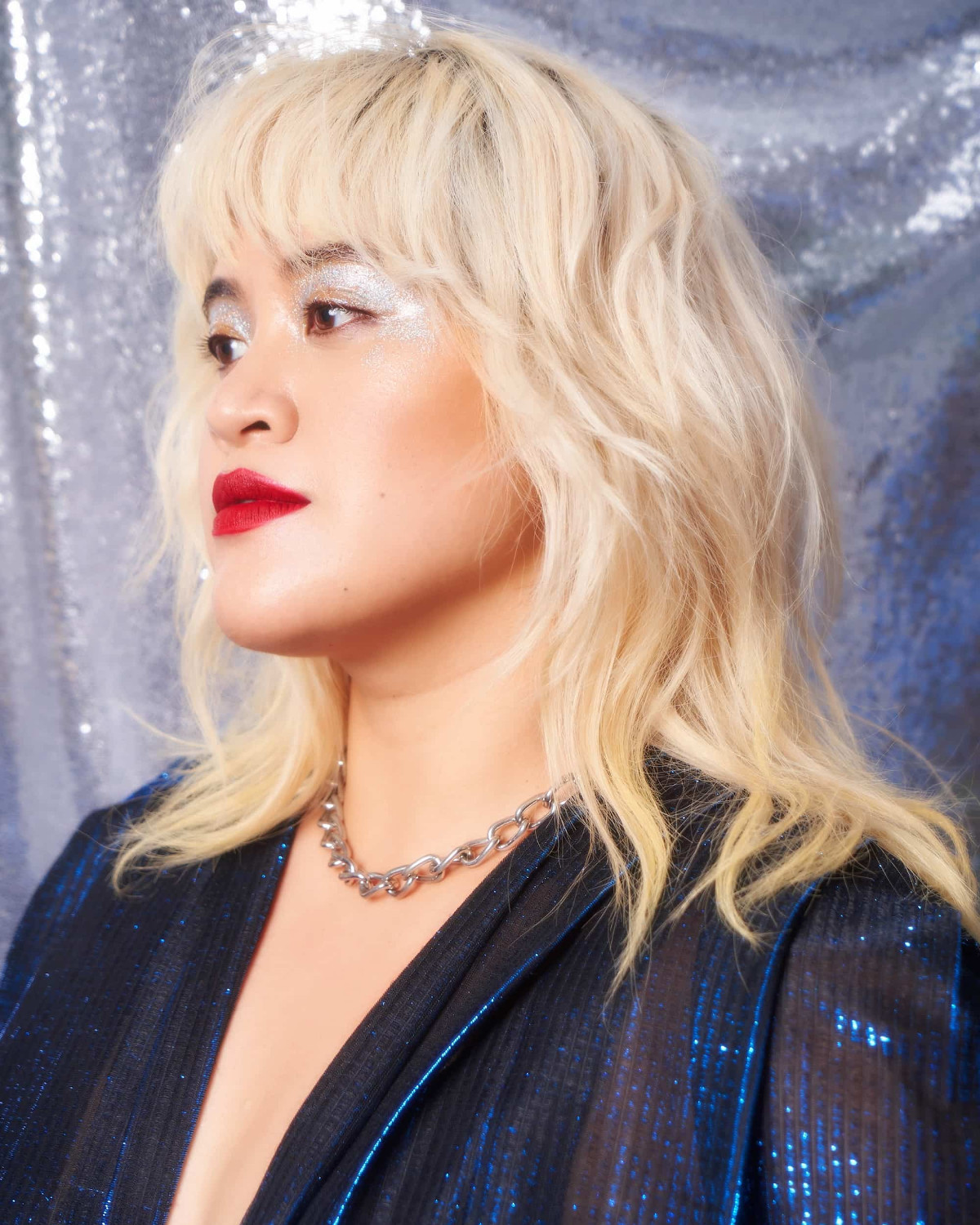 Arrivals, published in Timid Magazine.
a personal piece on rejection and finding chosen family
Words: Alexandra Cuerdo @alexandracuerdo
Photographer: Anjelica Jardiel @anjelicajardiel
"The truth is of course, that there is no journey. We are arriving and departing all at the same time." — David Bowie
You're running. Behind you is everything you've left behind — the burning universe of your past, everything you thought you could do, everyone you thought you would be. Before you is the blackness of infinity — a hundred different paths, a thousand different doors. The flames are at your feet, your lungs are burning, and you have to choose: Who do you want to be?
Imagine: a girl in the backseat of a car, body curled into a question mark. You're sobbing, inconsolable, because you've been rejected from everywhere. Columbia, Harvard, UC Berkeley — all the dreams your parents had for you won't ever come to pass. For you, it's over. Rejection letters fill the spaces between your clenched fists. You're not what they are looking for. You are not enough. Your grades aren't good enough, your extracurriculars, not impressive enough, your volunteering, your charity, your sweat, your rage. 10,000 hours of being a good Asian girl just didn't cut it.
The transcript of your life has been written and it says: "We regret to inform you…."
***
The week before I didn't get into college, I still believed in the future. My head was full of Technicolor dreams. I had seen Almost Famous and was convinced I'd follow the path of Cameron Crowe — a 16-year-old wunderkind journalist, following my favorite bands for Rolling Stone. My favorite film was Todd Haynes' Velvet Goldmine, a film loosely based on the life of David Bowie, and about the transformative power of music. I ached for American Beauty, devoured anime and manga. I performed in musicals, and fell head over heels for Rent. I dreamed of the impossible: an artist community that could overcome tragedy and change the world, all from this hopelessly romantic/dirty place called the East Village.
The whole world was waiting on me. Everything was possible outside the narrow lane of Orange County. Sex, love, rock 'n roll — I just needed to get out. As an Asian American kid, college was the best and most honorable excuse.
I wanted to be anywhere but here. Because here was the OC, a rock-bottom suburb of Southern California, streets named for white supremacists and a liquor store on every corner. My eighth grade teacher lectured me for receiving a kiss on the cheek; my church preached that homosexuality was against God. Later, I would french kiss my girlfriend on the roof of a movie parking garage, hands shoved in each others' pockets. We held on for dear life, the only two Asian queers in Orange County, the flamboyantly pink sunset its own special fuck-you to everyone that said we were wrong.
My parents had fled martial law in the Philippines, young activists turned immigrants. They believed in the American Dream. Rey and Ascencia Cuerdo had $300 between the two of them, and a tenuous connection to a cousin in Houston, Texas. An aunt in California convinced them to go west. My mom remembers riding buses in Koreatown, the streets like promises — Mariposa, Western — the heatwave breath of Los Angeles. She slept with my grandmother on a single mattress on the floor, reading letters my dad would send from Manila. One night, she was coming home on the bus, carrying 4 heavy bags filled with groceries. Suddenly, one broke — she froze, watched the chaos of it, ripe oranges spinning away on the dirty floors. And no one noticed. No one even moved. Later, she told me she cried that night, thinking of the spoiled fruit, and how everyone just watched her — on her knees, alone, reaching out for nothing.
My father came to America to be a rockstar. He introduced me to Fleetwood Mac, Cat Stevens, the gospel of the Beatles. He splurged on surprise tickets to see the Rolling Stones for my 18th birthday, because it was an Important Life Experience. Parenting, in my house, was music. At the University of the Philippines, my parents met backstage at one of my dad's gigs. My mom's friend was talking her ear off about this cute DJ/guitarist/singer. They were in 70s finery, the crowd abuzz, waiting for the show to start. She remembers the next moments in slow motion: he walked in, turned and saw her. Across the room, through the crowd. Their eyes met with an electric shock — it was thunder and lighting, smooth summer rain. He came over, spun a chair around, sat down in it backwards. He said, "Hello." My mom's friend was freaking out, hands waving: "This is The Guy! The one I was talking about!" My mother just smiled.
My parents' romance was Bob Dylan, Elton John, Joni Mitchell, Jesus Christ — Gods in a Philippines most recently colonized by America, gifted fast-food chains and spam by the ruling class. Jesuits taught Joni's lyrics to my father as poetry. My mother sang lullabies from The Music Man, arias from Phantom of the Opera — she was a theatre actor, in love with the world, dreaming of revolution. When her friends at university protested martial law, my mother joined them. She remembers the burn of the fire hoses the government used against student protestors, how the police would put red dye in the water to mark you, to arrest you even when you fled. She remembers when student journalists were questioned by cops, when people disappeared outright, what was later called the First Quarter Storm. Her close friend's father was an outspoken journalist; he was executed by the government.
It was a dangerous time to be young, fatal to speak the truth. So when my mom left for America, my dad promised he would follow. They didn't have any money, so he played in cafes and hotels in Manila, collecting coins in a guitar case for a ticket to a new home. Around friends, Rey would always brag — my first concert in America was Ringo Starr, and I didn't cry once. While he was playing shows in LA, my mom would stay home and watch me. We shared a little house in Whittier with an ever-rotating family of aunties and uncles and cousins, everyone a tita or tito. I'd crawl the square black-and-white tiles, as the village of titas cooked pancit, lumpia, arroz caldo, sinigang. Some nights, I could only fall asleep to the sound of my dad practicing electric guitar, our dreams vibrating through the floors.
In the morning, he'd wake up and go hunting. He'd work any job, all jobs — telemarketer, door-to-door salesman — while mom worked the phones as a receptionist. She went into Human Resources for a law firm, getting good at listening to first world problems and managing big egos from people who never once knew what it was to be hungry. And one day, someone took a chance on Rey Cuerdo, and my father got a job in the filing room of Columbia Pictures. It was a 3-hour commute, door to door. He worked so hard he got promoted, and promoted again. The studio sent him to business school, and put his kids through college. 35 years later, he still makes the daily pilgrimage to the Sony lot in Culver City. On the way, he hums through a stack of CDs — new rock albums he listens to every day, cover to cover.
When I was a kid, my parents moved into a new development in Brea. The plot was former orange groves, track homes backed right up into the suburban hills. In the summer, heat would shimmer over the oil derricks, while native tarantulas stalked the asphalt. Snakes from the nature preserve next door would occasionally jump the fence; cats lived in fear of coyotes. We were the last house on the cul-de-sac, our Spanish roof tiles and HOA-mandated paint in the perfect shade of beige.
In that house, I was an almost-American girl. My grandmother raised me while my parents worked around the clock. No matter how much I begged for lunchables, Lola packed only Real Food: sandwiches stuffed with fried eggs, tupperware stacked with spam, veggies, and garlic rice. She remembered rationing from World War II, so we saved everything: disposable cups, plastic straws, Starbucks napkins. She taught me to never trust men, only God. I was never allowed to sleep over, but my mother paid for etiquette classes, for musical theatre camp with the neighbor kids. They wanted to give me everything. I learned every note. I sang "Tomorrow" with the best of them. I never got the lead. I read all the books in the library. I was top of my class. I played tennis, took dance. My friends were all white but my tights were brown, a different shade of skin. I became prone to rages, uncontrollable crying. My mother told me I was so sensitive, anak. I watched the walls closing in. I felt the hole inside me grow. Every day, I pinched my nose, holding the bridge, praying that one day, I would wake up. One day, I'd be something different, I'd be someone else.
My blood runs with palm trees and banana leaves, my DNA sticky with coconut juice, running down your hands from a freshly cracked fruit. I know my ancestors are watching me. I am Filipino, Chinese, Spanish, Malaysian, French — a child of colonialism and migration, who grew up in between. My American Dream is bigger, different from my mother's. She wanted to survive, and I feel I am owed that, my privilege, my American-ness in everything I touch.
In the early days of 2020, I was in full soul search mode. I make movies and sometimes write books, so I live between New York and Los Angeles, a hard-won dream I've managed to turn into a strange, shifting reality. Joan Didion once wrote, "Someone who lives always with a plane schedule in the drawer lives on a slightly different calendar." I live that half-life, one foot in and one foot out, always missing a place or about to arrive, metamorphosing into being.
In March, I had just spent a month in Thailand. I cried over elephants, pounded papaya with strangers, experienced religion on a kayak, watching our lit offerings like dark stars floating light out into the sea. On the flight back, I was convinced I'd film my next documentary about Thai food. Back in New York, I raised a glass. I was young, and I'd just sold my first movie to Hulu. ULAM: Main Dish was a documentary about Filipino food crossing over into the American mainstream. I had no idea what was next. I didn't know that this would be my last restaurant meal for a year or more. It was just New York, and I was still new, the champagne bright and crisp, the seared steak like ice cream melting on my tongue.
And just like that, it was the end of the world.
One week later, New York shut down. I remember hiding in my apartment, listening to the sirens whine all day and all night. The streets were moist with rain. Every day I would refresh the New York Times' death toll.
I asked my landlord, "How's it going?"
He said, "Apocalyptic." The best of us learned a skill — bread, guitar — and all I could do was disappear. I wanted to become nothing. I re-read all my books. I did yoga every day. I cried and couldn't stop. I read old journals, old memories. Maybe because the world was fucked, maybe because the earth was burning and everyone I knew was getting sick, maybe that's why I went back. To that dark place, to who I was then, to the last time I was convinced the world was ending.
***
Imagine: the sky, falling.
When you're 16, it's easy to think the world is ending.
And it often is — every time you fail a test, every time someone laughs in your direction. You're too young to vote, too old to know nothing. We're killing people in the street; there's a mass shooting every other week. You cry a lot, because this is your world, and you want it to be good. Your parents have their success story, and you want yours. You want everything.
You don't get it. Instead, you work hard — 5 days a week making minimum wage as a Hollywood assistant, 2 days in retail making just enough to afford a shitty apartment in Koreatown, the place your mother once called home. You work on movies for free; you work for your friends, for former professors, assistant director, production designer, location manager, anything to make money. You write at night, make movies on the weekends. You total your car because you work 72 hours with no breaks and no sleep. You sneak into parties at Sundance, you lie down in the middle of Santa Monica Boulevard. You get fired, you cry all night. You take the unemployment checks and make a movie on an island with all your friends. When it fails, when it all crumbles, you swim out into the ocean. You don't want to come back. You think of your mother, how she'd come home at 2 in the morning and stay up late, just to talk to you. You think of your father, his careful fingers on the guitar playing "Here Comes the Sun". The tide pulls you down, and you fight the darkness. You see the moon. You come back.
One day, you wake up. It's 10 years later, and you're backstage. It's Closing Night, and you're about to premiere your first movie in New York City. You step out into the light. It's slow-motion, you hear the roar of the crowd, and someone hands you a microphone. Your shoes sparkle. And you realize — you're the rockstar. You're everything your parents wanted. You thank them first.
You get sponsored by Philippine Airlines — it's the first time you fly first class. You write a book. On Christmas, you sign copies for your cousins, for your parents' friends. You live in the East Village, just like you wanted. A DJ named Tito Vida introduces you to his party: BUBBLE_T, a place where slaysians rule, but everyone is welcome. You learn what chosen family means. You make another documentary called Dancing On My Own, about the queer Asian community you now call home. You write a show. You get signed. You put a trans flag on a water bottle that you get to design. You direct, you create, you make films with all your friends.
You get rejected and you go to sleep and still you wake up, every day, as someone new. You build that impossible dream — making art to heal, art to overcome, art to change the world.